Welcome to the $25 AllTravelSizes.com Gift Card Giveaway
Use TOMSTAKE10 for 10% off an order from AllTravelSizes
How many times have you travelled before and something happens when you might have an upset stomach, feel a cold coming on, or were outside and thought, I sure could use some sunscreen about now?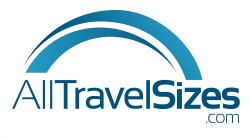 Tom over at Tom's Take On Things is partnering with AllTravelSizes.com and blogs like mine to help promote this giveaway. You can check out his review here. Sometimes convenience is the easiest way to deal with something. Have you ever been away from home, and maybe you need an antacid, or something for a migraine/headache, or even something for the little one that might be travelling with you? When that happens, do you see yourself hunting down a drug store, or a convenience store while you travel to buy an over priced larger size of something that you might not even use again for awhile?
If you shop and get your items from AllTravelSizes.com you will find that you can order exactly what you think you might need, in easy to carry travel sizes. Maybe you don't want to pack that bottle of Aleve, and a few individual packets would suit you better. They are great for carrying in your pocket, or small handbag. What about your Carry-On bag when you fly? Wouldn't it be better if you had everything you need already instead of buying it at the airport?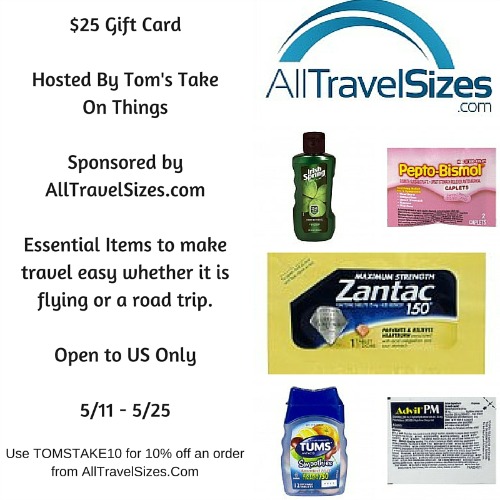 Use TOMSTAKE10 for 10% off an order from AllTravelSizes
Open to residents of the U.S. Only, 18 years of age or older. Participating Bloggers were not compensated for this post. AllTravelSizes.com is responsible for prize delivery. Facebook, Twitter, or Pinterest are not associated with this giveaway in any way. Winner will have 24 hours to respond to winning email. Travel safely and conveniently, good luck everyone!